Hello everyone and Happy New Year! I hope 2012 so far is proving to be a wonderful year for you.
This is my first giveaway of 2012 and the lucky winner will be receiving a pair of
Ornate Floral Blue and White Daisy Earrings
. They have been very popular and I actually ran out of stock over Christmas. The good news is that they are back in stock and you can own a pair.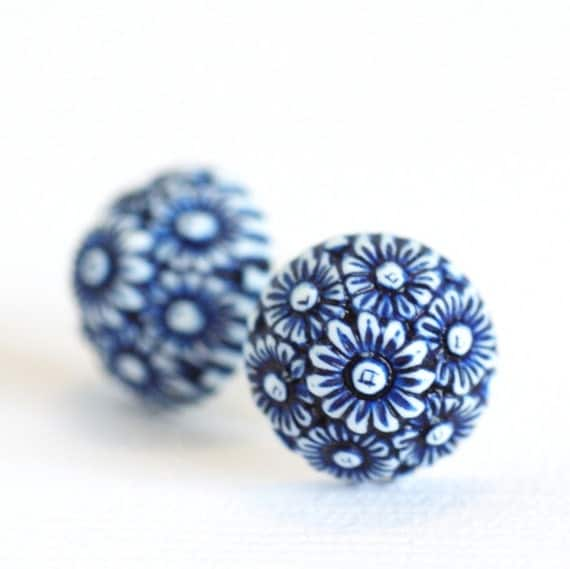 Have you heard of
Pinterest
? Do you have a
Pinterest
account? Here is my
Pinterest account
. If not, head over to
Pinterest
and ask for an invite to join. It is a social media site that relies heavily on visuals. It becomes quite addictive once you start. You set up your boards and then "pin" items you see on the Internet that you love and you add them to your boards.
For this giveaway, you can enter really easily!
To qualify to win you must simply....
.....PIN products from
Jacaranda Designs Etsy Shop
(Etsy have made this very easy by adding a "PIN" button on every listing in the lower right corner.)
OR
.....Follow
me on Pinterest
OR
.....Tweet about this giveaway
OR
.....Become a follower of my BLOG
OR
.....Follow me on
Twitter
OR
.....Follow me on
Facebook
Once you have pinned one of my products or tweeted about the giveaway, simply, add a link to the pin or tweet right here (include your email address or etsy name with every entry - if you're worried about spam email you can spell out the "at" and "dot" rather than using standard email format) otherwise I won't know that you've been pinning my products :)
To choose a winner, I will be selecting the individual who follows
me on Pinterest
AND has tweeted about the giveaway AND has pinned the most items from
Jacaranda Designs
.
So what are you waiting for? Better start pinning now!
This contest ends on Tuesday Jan 31st at 8pm and is open to individuals over the age of 18 worldwide.